City News
From sterlet sturgeon in white wine to wok. The St. Petersburg Gastro Guide
09 April 2021
The imperial capital, St. Petersburg, attracts not only by architecture and museums, but also is interesting for its unique gastronomy. Palatial Russian cuisine, seafood, signature sets, trendy pastry shops and new gastronomic spaces are just a few of the reasons to come here and eat deliciously again and again.
ST. PETERSBURG RESTAURANTS OF HAUTE RUSSIAN CUISINE
Haute Russian or Petersburg cuisine is a brand of Russian cuisine revived in 2014, known since the 18th century. Dishes of this cuisine were prepared at the court of emperors, in the most famous noble families and served at official receptions. Many meals' names are also mentioned in classical literature. A specific feature of haute Russian cuisine is a unique combination of Russian and French recipes and products.
The Palkin restaurant is a participant of the Petersburg Cuisine project and, perhaps, one of its best examples. The restaurant's menu consists of such forgotten titles as ox goulash with roots, stroganina made with Siberian sturgeon, all kinds of caviar and berry desserts.
The signature dish of the restaurant is the famous sterlet sturgeon baked in white wine. During a break between meals, guests may taste an entremets - an original appetizer from the chef.
It is noteworthy that the restaurant was opened in its original building on Nevsky Prospekt, which was visited by Tchaikovsky, Dostoevsky, and then by many poets of the Silver Age.
The average bill without alcohol is 6,000 rubles.
Photo
Shchi, an old Russian style sauerkraut soup with bacon, long baked in the oven, in Palkin is served with traditional Polugar Vodka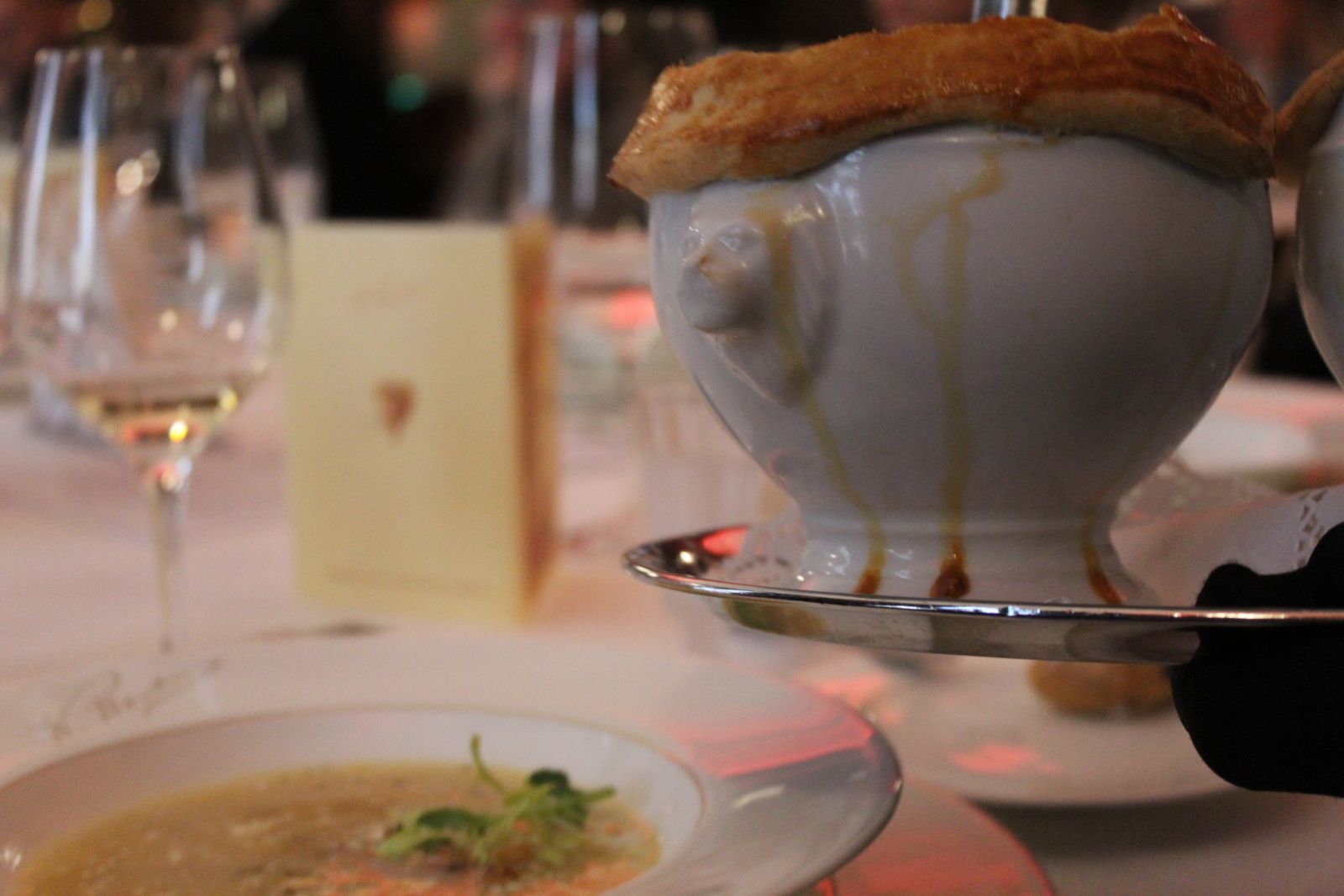 Another point of old Petersburg cuisine is the Eliseevy Merchants' store, which, in addition to food for gourmets, houses 2 well-known restaurants - Mezzanine, a restaurant of haute Russian cuisine, and Sklad №5, which serves dishes from the times of the Eliseev merchants.
Mezzanine is a gourmet restaurant located on the top floor of the store in the former director's office. Here are served well-known dishes of haute Russian cuisine, such as Eliseev venison tartare, Pork medallions with hopped sauce and potatoes-a-la "Pushkin", and for dessert - а homemade Ryazhenka mousse with salted caramel. The hall contains only antique furniture and dishes with real gilding.
The average bill without alcohol is 4,000 rubles.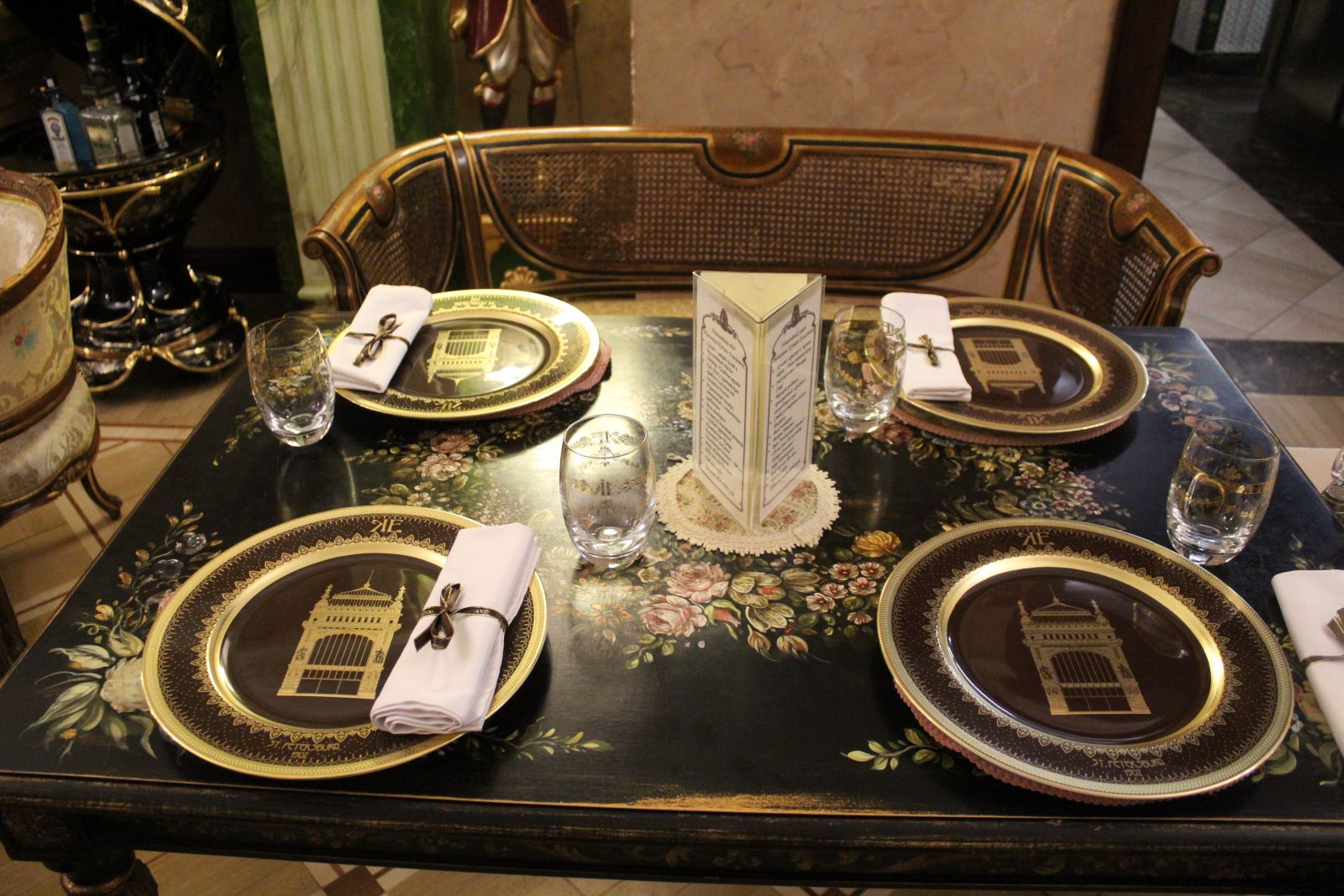 Photo
Furniture and tableware of the Mezzanine restaurant can decorate any museum.
The Sklad №5 restaurant is an old cellar where wine was once kept. It is believed that the Eliseevs merchants were the main importers of wine in Russia, so every third bottle was brought by them.
The restaurant has restored the atmosphere of the Eliseev period, and the menu, which is ideal for tourist groups, often includes pickles prepared "according to the Eliseevs merchants' recipe."
The average bill without alcohol is 2,000 rubles.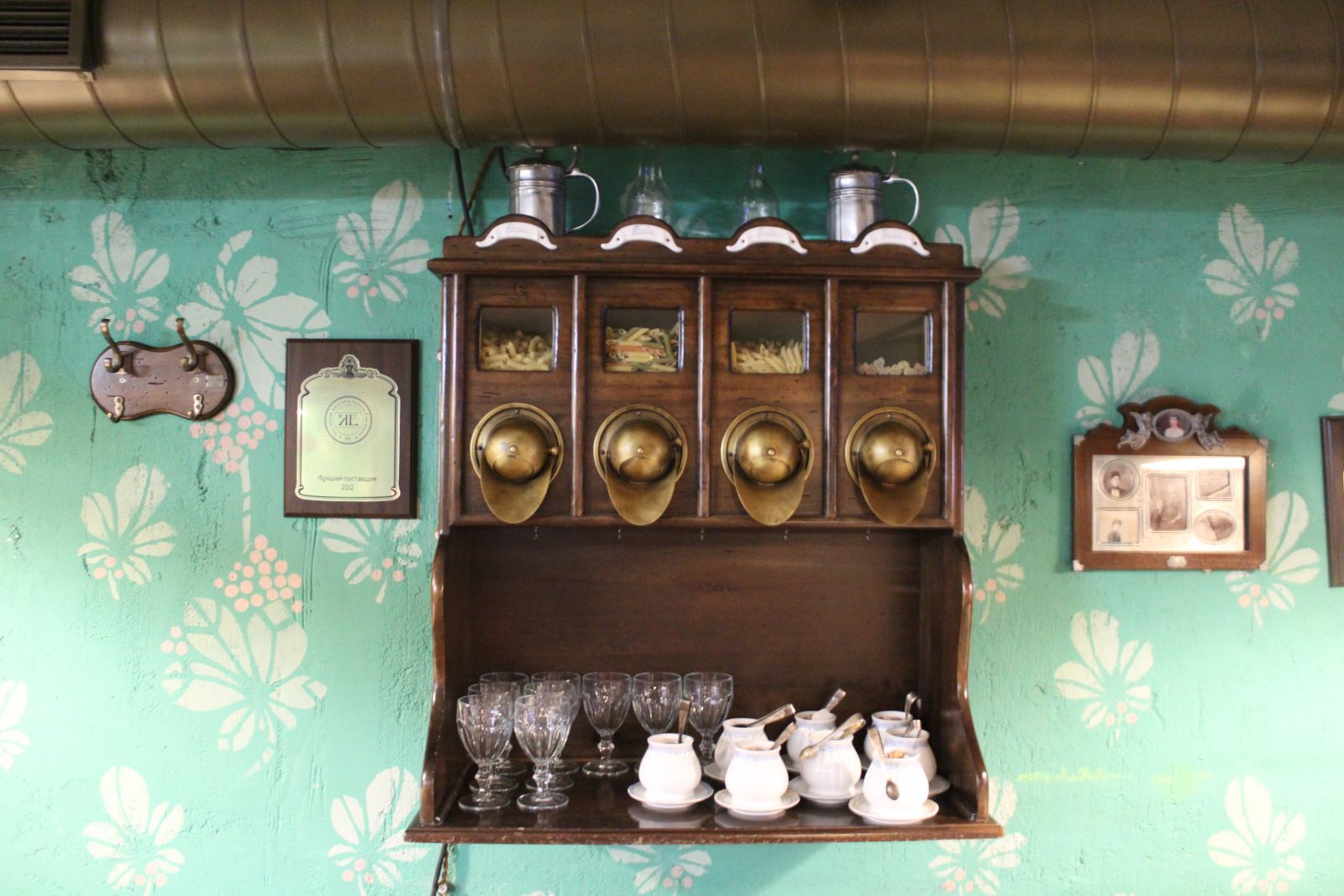 Photo
Some items from the furnishing of the Sklad №5 restaurant came from the last century.
SIGNATURE SETS IN PETERSBURG: THE BEST
Signature sets can be a real festival for gourmets. This is a special form of cooking and serving dishes, which is developed personally by the chef and captures all his imagination. Petersburg sets should be recognized as one of the most creative in the country.
Restaurant EM. This is a completely unique concept of the restaurant, which is located in an old St. Petersburg apartment located in a historical place on the embankment of the Moika River, and offers a course menu. The restaurant opens for dinner from Tuesday to Saturday and is very popular with foreigners. All dishes, developed by the chef Olesia Drobot, are cooked on the unique English cast iron stove AGA.
A 7-course dinner costs 5,500 rubles.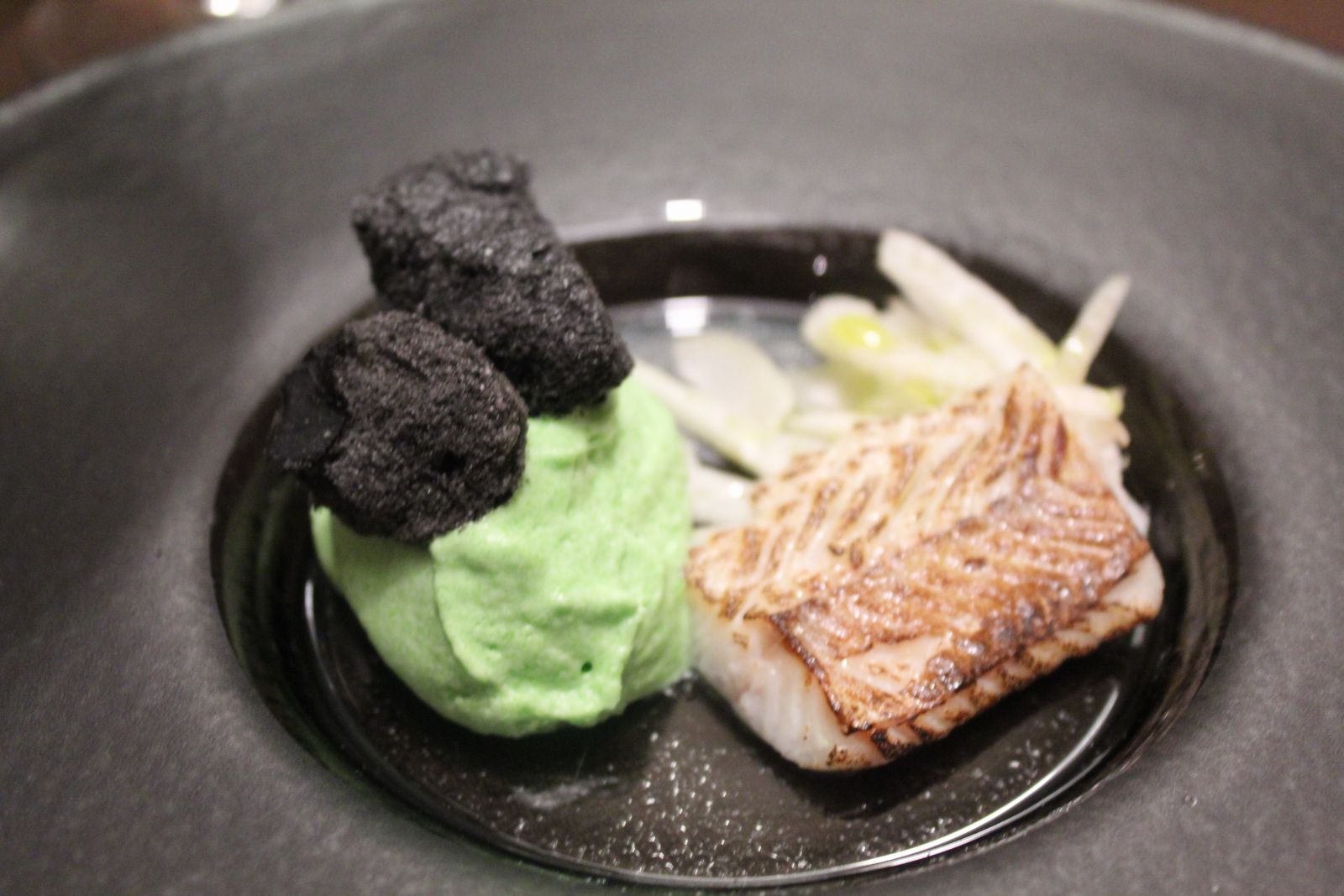 Photo
This is the fourth dish of the course - pike perch and fennel with cucumber mousse.
The Birch restaurant is one of the most creative places in St. Petersburg. It is almost impossible to book a table here, sometimes you have to wait a month to finally taste the set menu of the chef Arslan Berdiev. His "trick" is unexpected combinations.
For example, guests may taste a sphere of rose water and birch sap for a starter, fish prepared in tomato water, salad dressing made from broth left over from boiled vegetables, and seasoning made from salted smelt.
The set consists of 9 dishes and costs 3,500 rubles.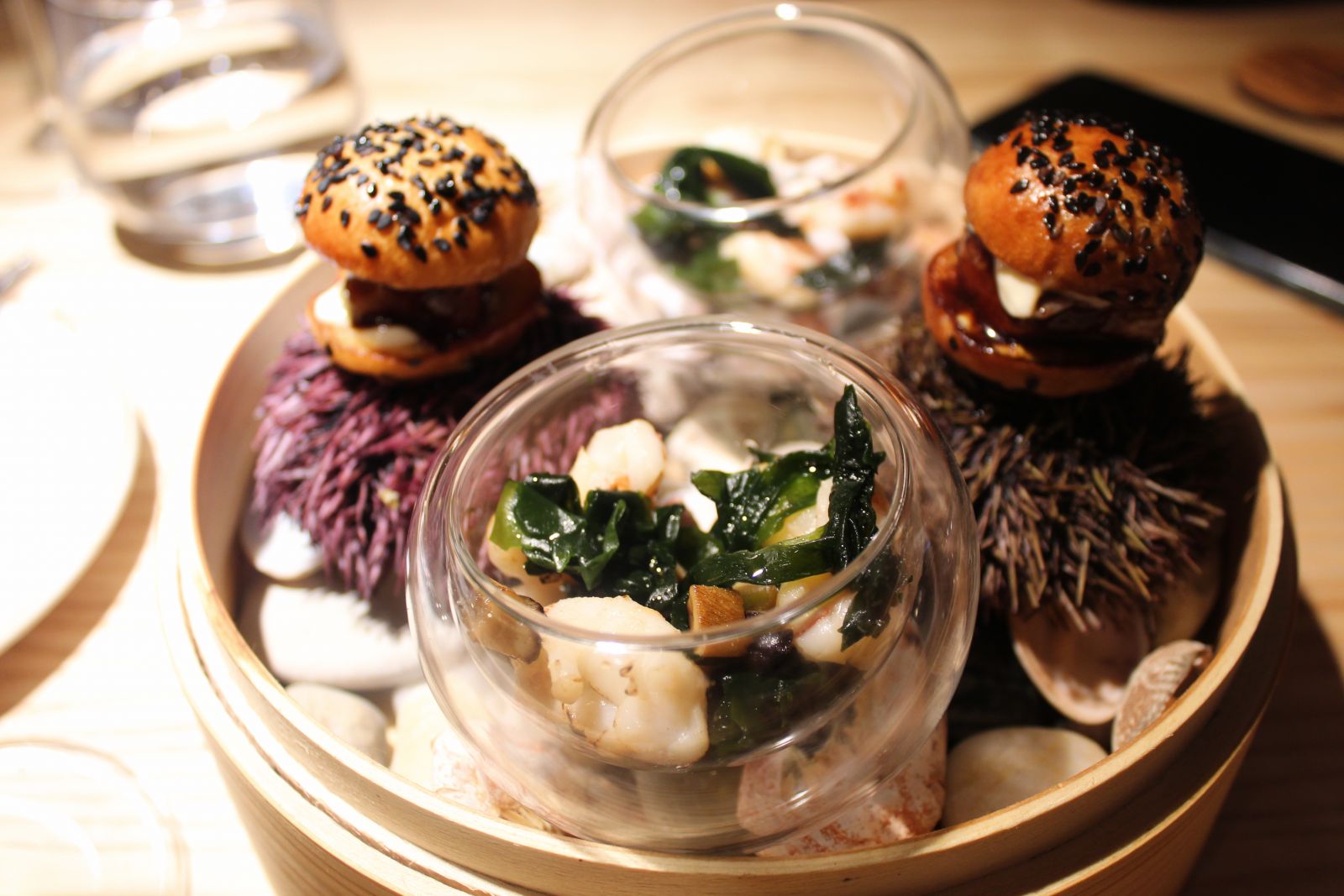 Photo
Birch: Seafood and seaweed consomme based on dried sea urchin broth and smoked eel sandwiches
Eclipse Restaurant is a unique concept of a truly top restaurant. All dishes of the chef Sergei Fokin are fraught with a particle of northern nature and personal history. For example, the recipes use herbs gathered by the team members themselves in the forests of Karelia.
The products will also be surprising for the guests. Here you can see at least 3 types of potatoes or carrots from yellow to purple color, edible gold, snail caviar, which appear in an amount of no more than 700 pieces per year, etc. The serving of dishes is also unusual - before the dessert, for example, the tablecloth, napkins, glasses and water which have already absorbed the aromas of previous dishes and can interfere with the perception of the new one, are changed.
The restaurant itself, which is located on the outskirts of St. Petersburg, never opens earlier than 16:00, and its slightly fogged windows do not let the bright sunlight in, creating an atmosphere of relaxation.
Guests are offered 2 types of sets: a full set of 10 dishes at a cost of 9,700 rubles, and a small set of 8 dishes at a cost of 7,500 rubles.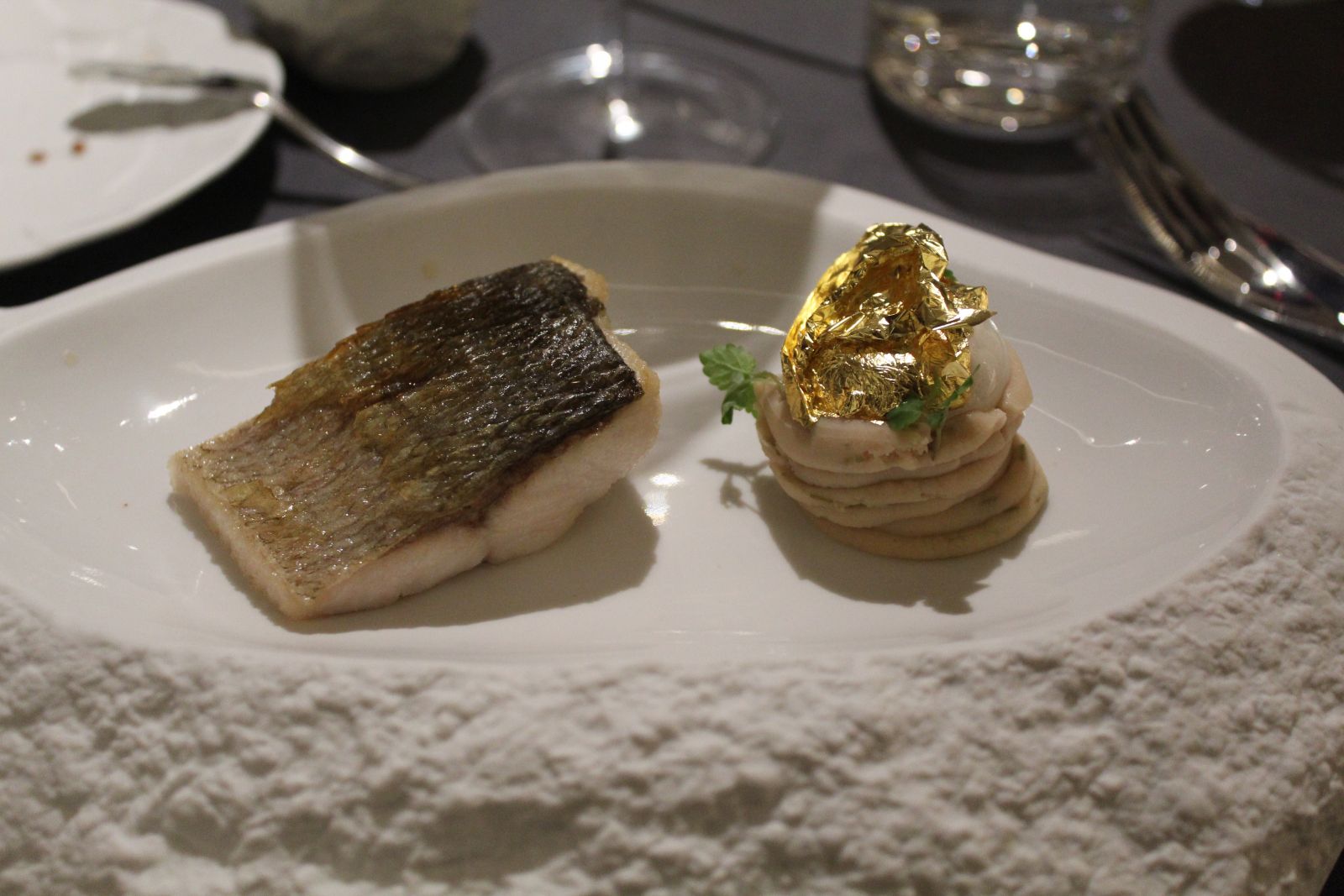 Photo
Muksun in the Eclipse restaurant is poured with hot oil from the side of the scales. It explodes and becomes an important aspect of the gustatory sensation.
TOP NATIONAL RESTAURANTS OF SAINT PETERSBURG
For those tourists who want to try the ethnic flavor of modern cuisine, we recommend visiting at least 3 interesting establishments.
Restaurant «Almond» (modern Georgian cuisine). A traditional Georgian feast is offered here, which, if desired, can last all 6 hours. Greens, cheeses, some vegetables and spices are brought from Georgia, and different types drinks like chacha and unusual homemade orange wine.
For dessert, we advise you to take the author's mango and passion fruit sorbet, which is «brewed» in bubbling liquid nitrogen.
The average bill without alcohol is 3 thousand rubles.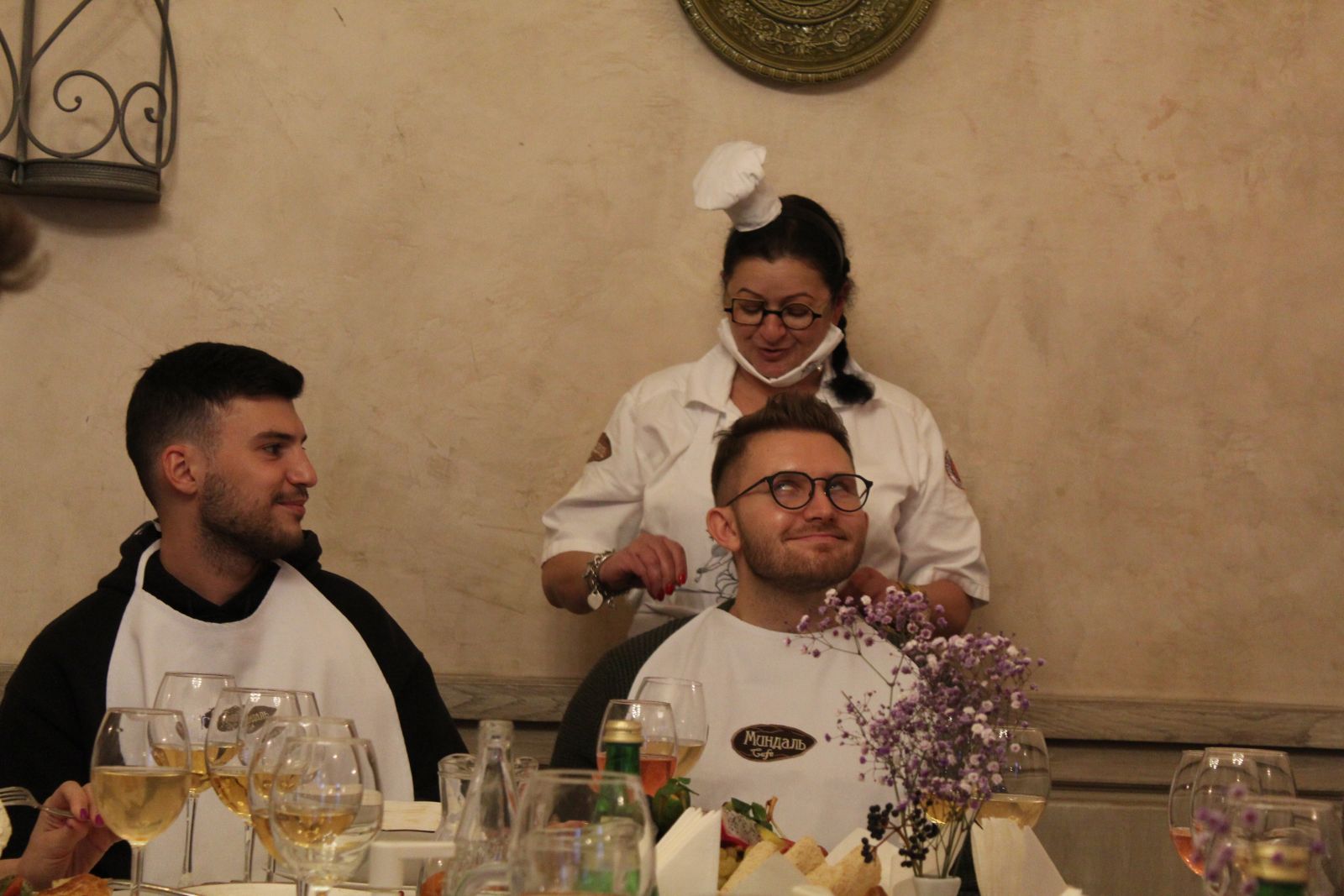 Before serving khinkali, the chef of the restaurant «Almond» Marina Naumova herself ties special aprons to the guests
Restaurant Meat_Coin (Turkish cuisine). This is a very interesting concept of the restaurant, where guests are offered a huge number of meat dishes: meat sushi, carpaccio, steaks, minced meat, meat salad, bone marrow and much more. They are supplemented with pomegranates, sauces, cheeses and spices brought from Turkey.
The restaurant has its own meat production facility in Saint Petersburg, which makes it possible to significantly increase the cost and quality of products.
The average bill without alcohol is 4 thousand rubles.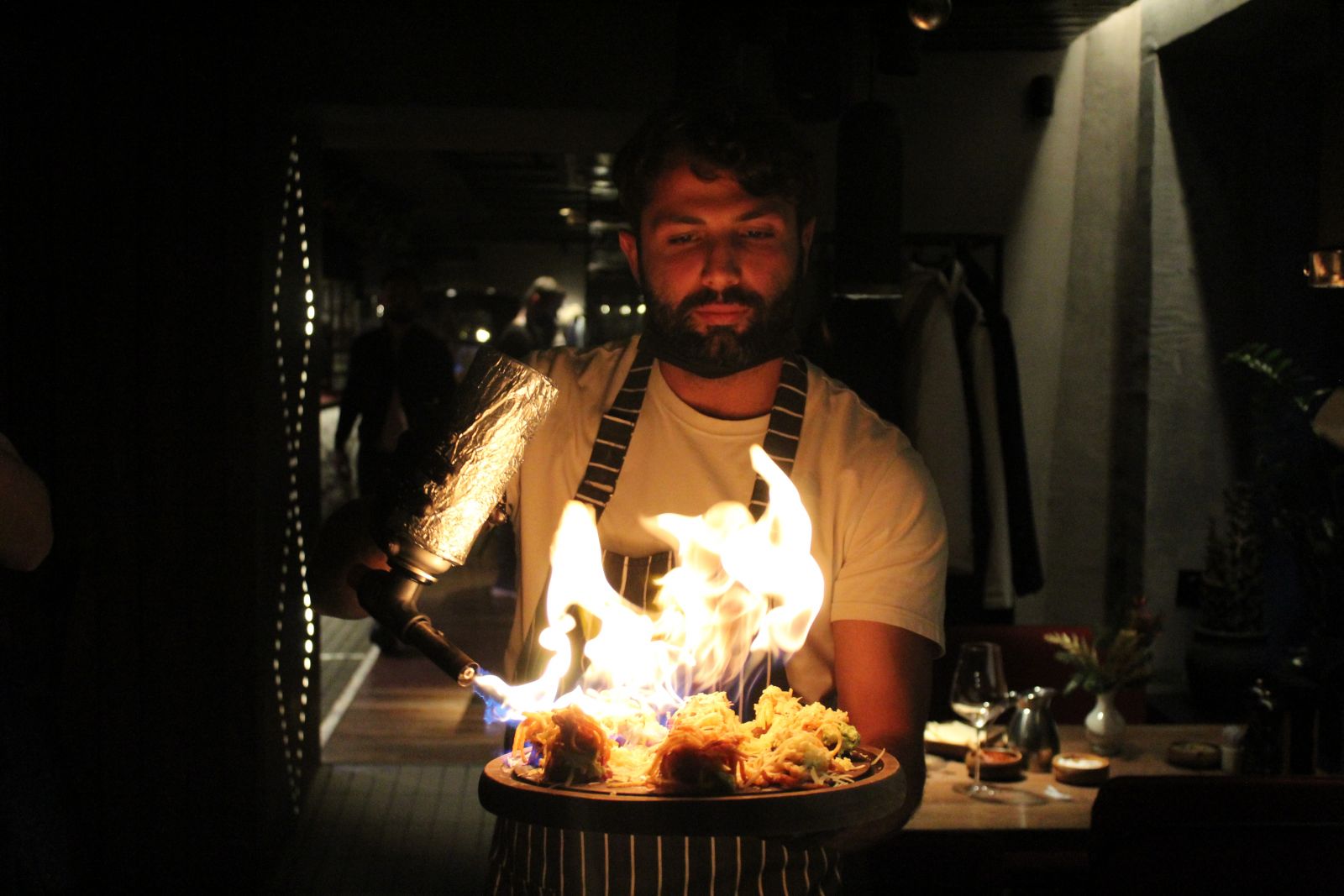 Meat_Coin chef Mehmet Caliscan, a hereditary butcher from Istanbul, turns the serving of food into an unforgettable show.
Percorso Restaurant (Italian cuisine). This restaurant is located in the five-star Four Seasons Hotel and serves unique Italian cuisine. The unconditional «strong point» of the restaurant is homemade pasta.
Tuna tartare, Kamchatka crab risotto and meat dishes are also very popular. If desired, here you can order a real Italian gastronomic feast for a family or a group.
The average bill without alcohol is 5 thousand rubles.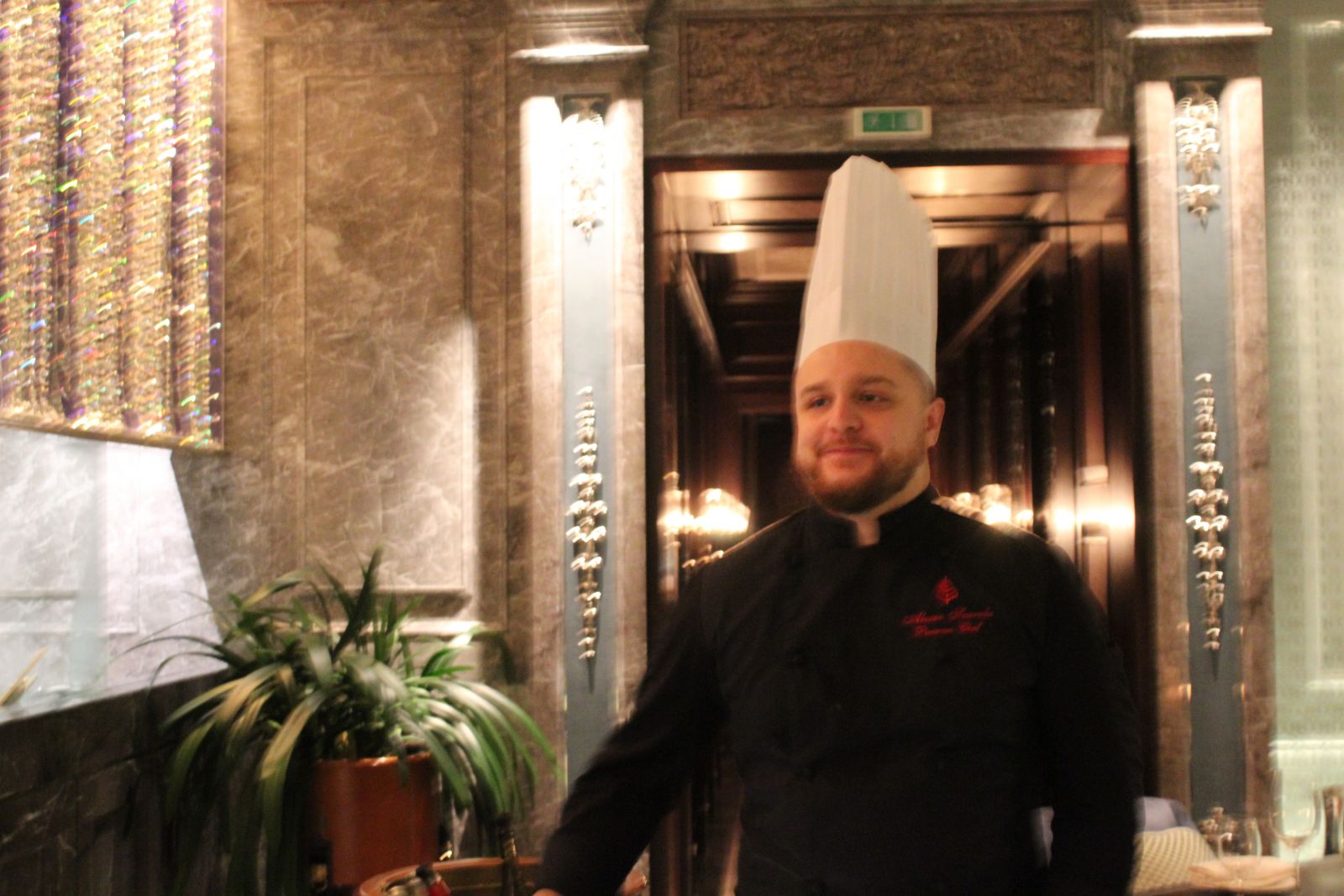 Percorso chef Alessio Scarola develops the menu taking into account the wishes of the guests of Saint Petersburg
NEW TERRITORIES AND UNUSUAL PROJECTS
Finally, in order to feel the taste of modern gastronomic Saint Petersburg, one has to go to the most unexpected places.
Culinary School of microwave. This is the most creative place where all the famous chefs of the northern capital gather. You can come here as a student, as a spectator, and as a participant.
Almost weekly, the microwave hosts interesting events, such as competitions between famous chefs preparing appetizers for a freshly tasted wine, or final exam of cooks who do not know in advance what and from what they will have to cook.
The approximate cost of the event is 3500 rubles per person.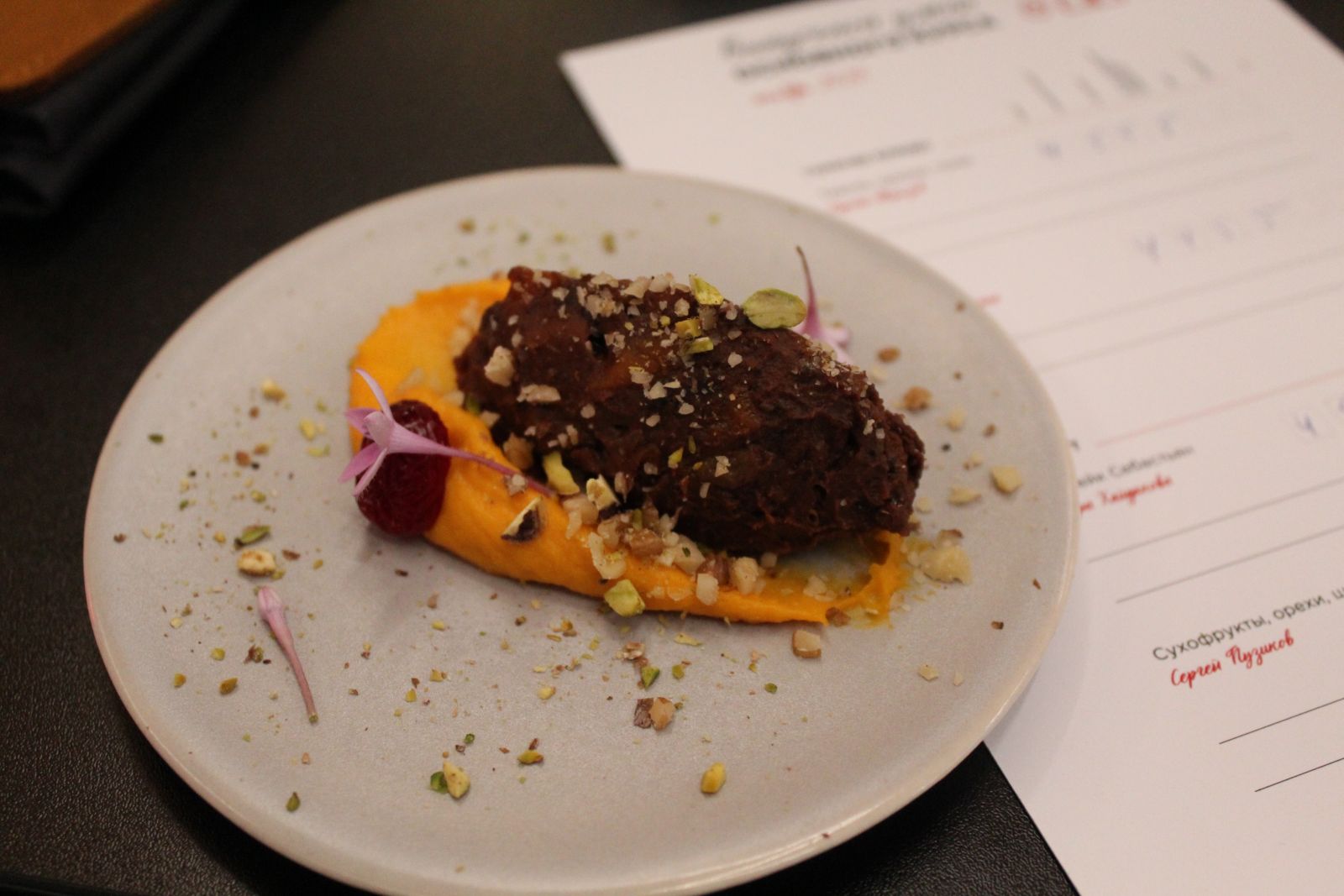 Final exam in microwave oven, where marks are put by all invited guests
Vasileostrovsky market. This is a gourmet paradise, where for a relatively low price (from 500 to 1000 rubles) you can taste modern and creative dishes from almost all countries of the world.
It is assumed that soon about 40 unique restaurants will open here, and the daily traffic will be more than 200 thousand people.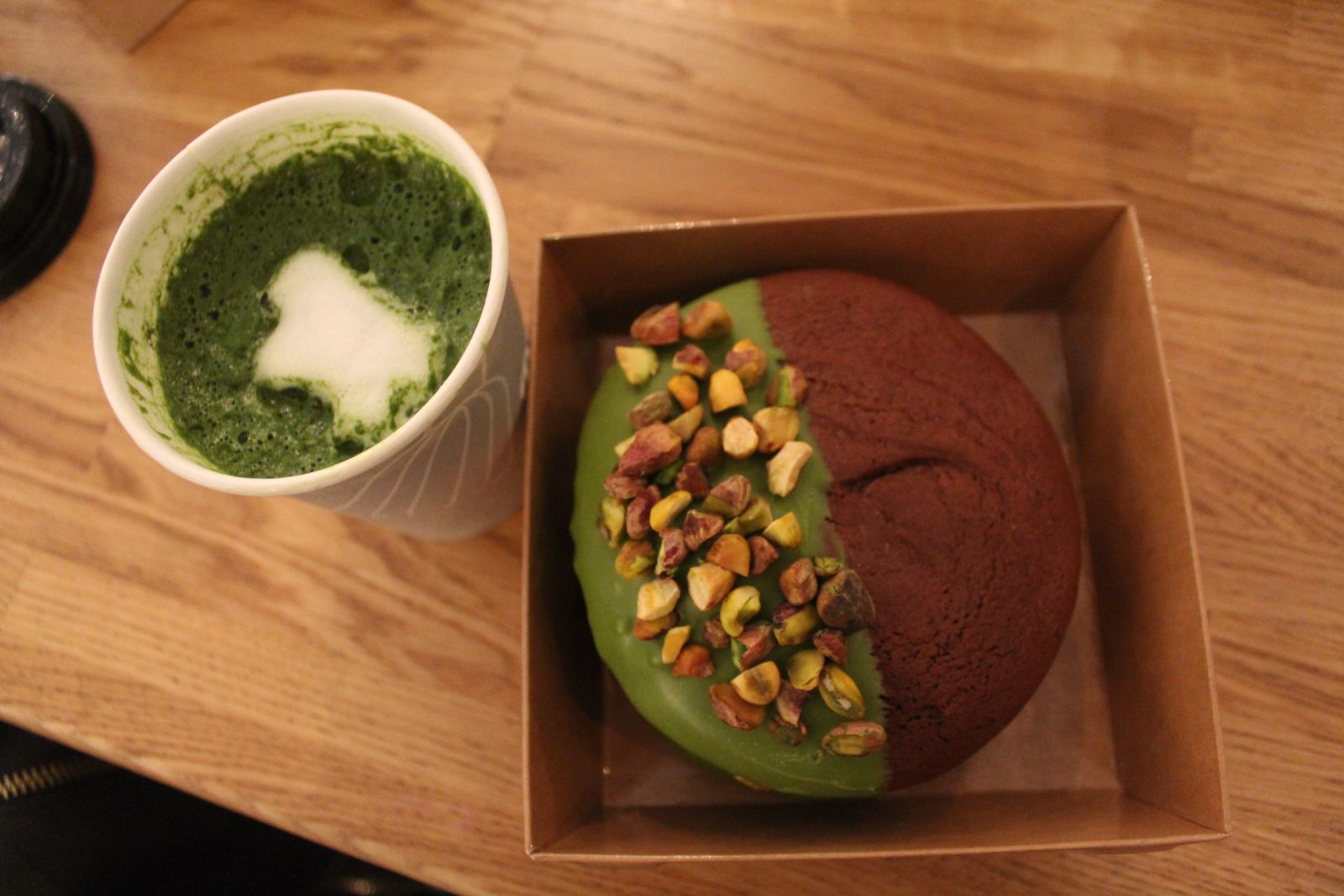 Public space «Sevkabel Port». This is an interesting project to transform a former industrial area into a modern urban space. About 10 thousand people come here every day.
The territory is still developing, but now Sevkabel presents more than 20 interesting food formats from fast food to restaurants. For example, the Katushka restaurant, which is democratic at a price, where most of the dishes are prepared with a wok, and it is quite possible to dine for 500 rubles.
Or the Anna's Secret Garden Café, which does not use animal products and is completely gluten-free. There are also such interesting formats as «Mussel Lichnosti» - dishes exclusively from mussels in sauce or «Pivmasteriya 17M», where you can drink and brew beer yourself.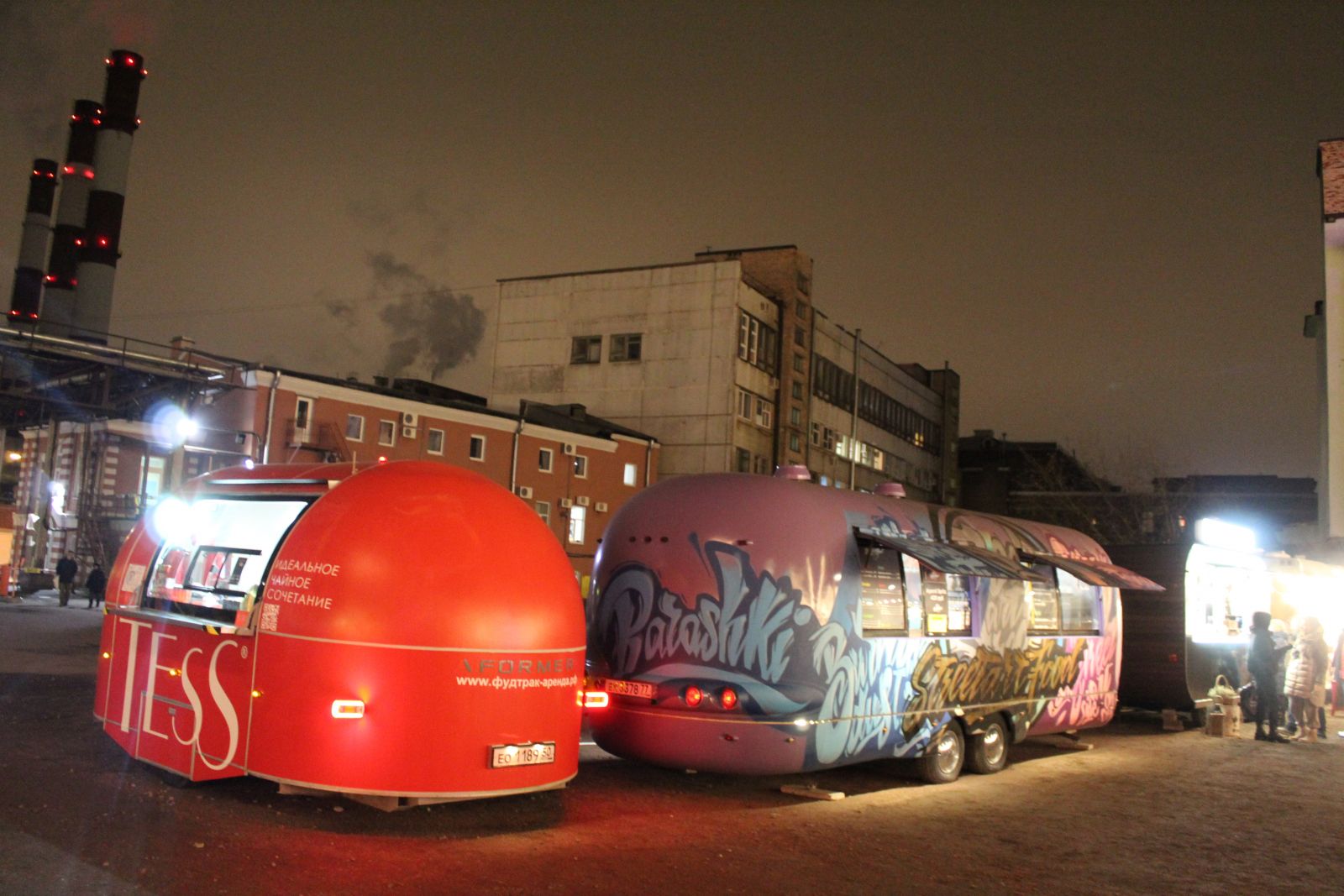 Food trucks fit perfectly into the surroundings of Sevkabel
Island «New Holland», transformed on the principle of a city within a city, is today the most interesting project in Saint Petersburg. The number of visitors here can reach up to 40 thousand people a day annually.
In summer, the island hosts many concerts, exhibitions and fairs with vintage products, and in winter, an ice rink is flooded. The public center of New Holland is «Bottle» - a former sea prison of the Peter the Great's times, which is now used both as a gastronomic area and as a zone for sports, beauty and self-development.
There are no chain restaurants in New Holland, so every project here is unique. We recommend Japanese restaurant Ronny, Georgian «Dzamiko», Israeli «Bekitzer», etc.
A special place is occupied by Cococo Bistro, which opened in 2020 - a casual version of the famous restaurant of Russian cuisine by chef Igor Grishechkin. Here, an author's lunch or dinner can cost about 2.5 thousand rubles, also they have working delivery.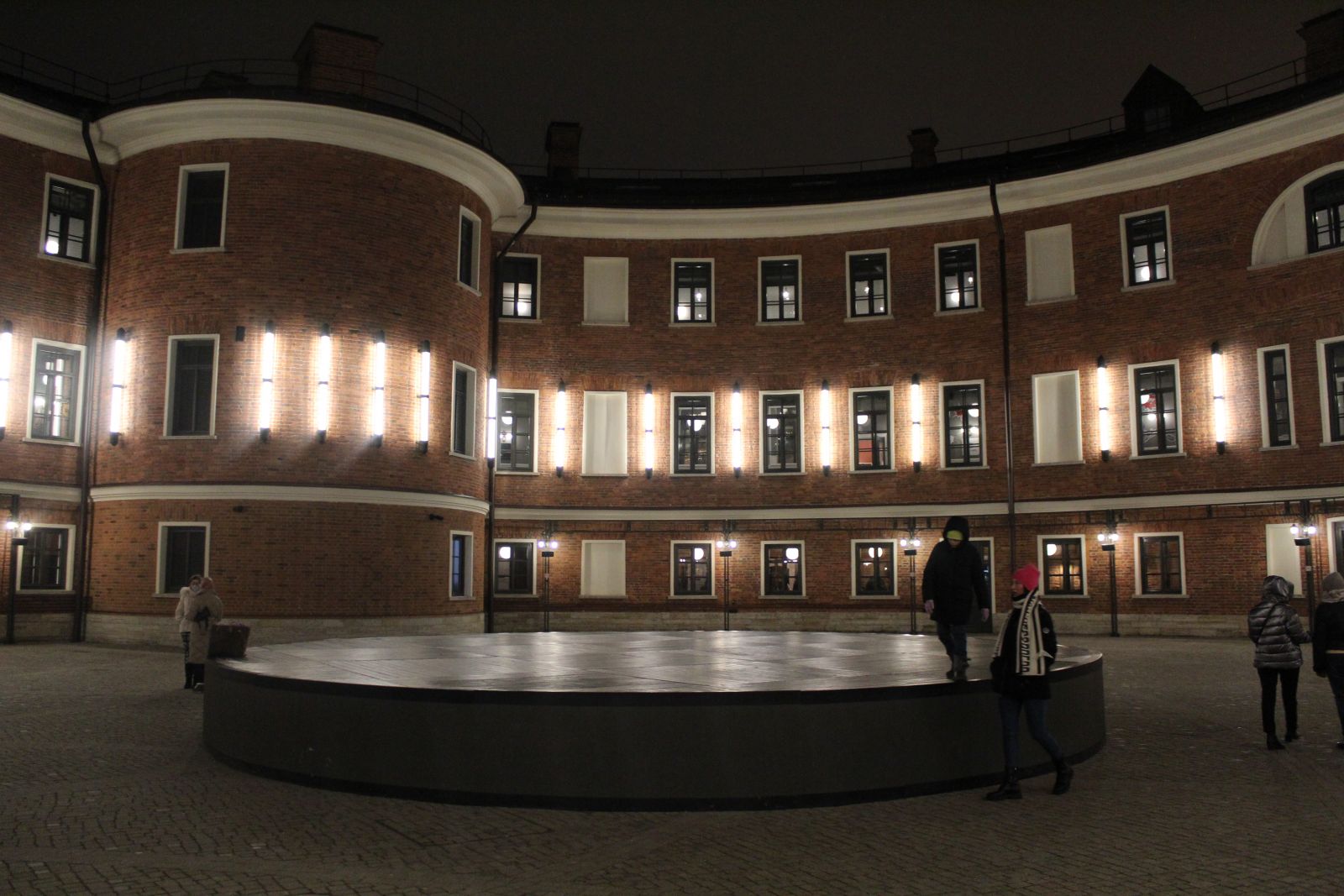 This is how the inner courtyard of the «Bottle» looks like, with its signature restaurants on the ground floor.
Finally, you can visit one of the master classes and cook something original under the guidance of the chef. For example, the studio CulinaryOn, located in the shopping center «House at the Red Bridge» on Moika. The participation fee is fixed - 3500 rubles per person.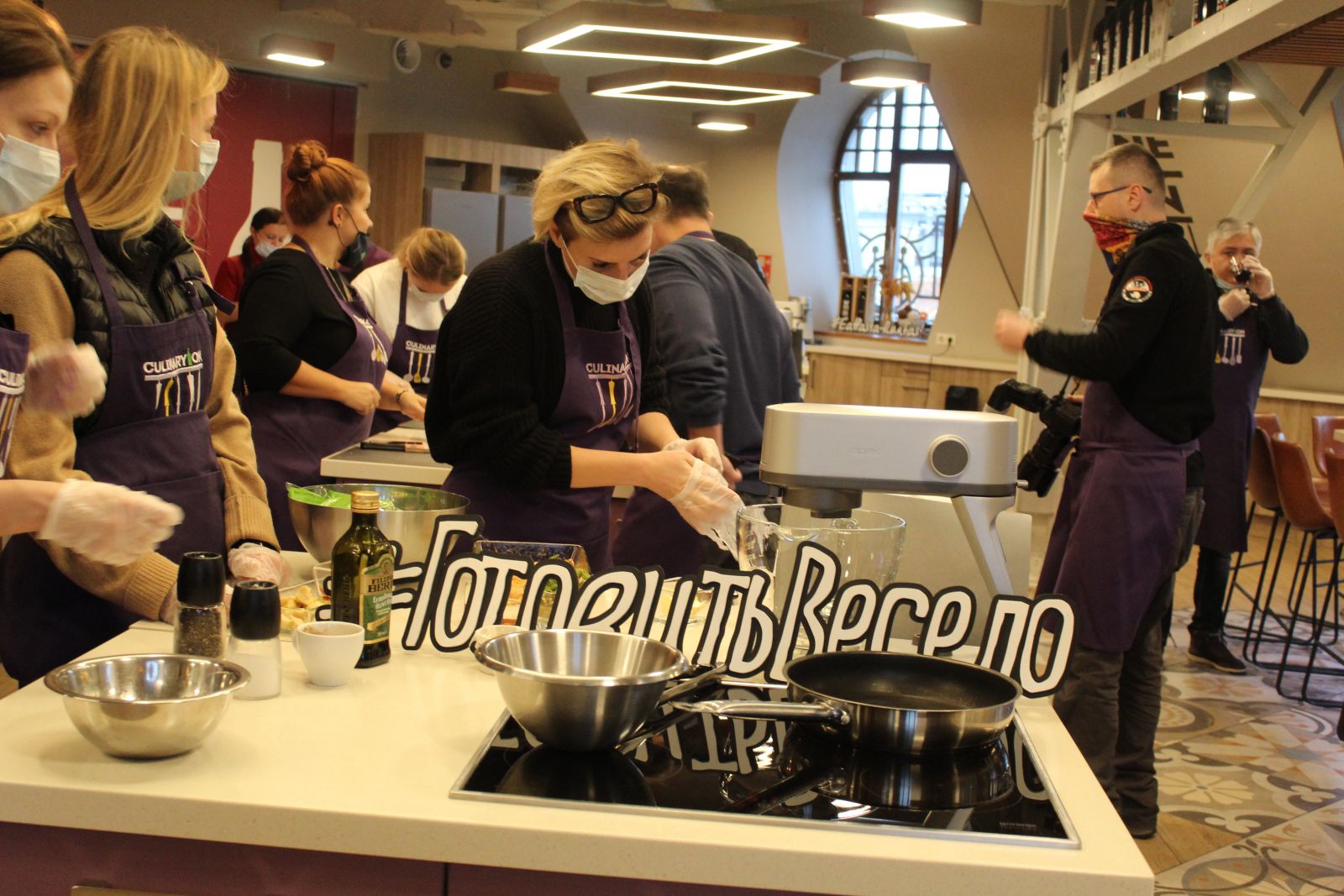 In the studio, you can learn a lot, for example, a recipe for raspberry vinegar.
CONFECTIONERY AS A PART OF URBAN CULTURE
Gastronomy has long been a part of the usual life of the city. For example, breakfast in a cafe is very popular here, so even on a weekday it can be difficult to find a free seat in the morning. And, of course, local pastry shops occupy a special place.
The most famous ones are in the Metropol restaurant, the confectionery production of which has now merged with the famous «Sever», but has retained 2 types of recipes. So the cakes in the restaurant can be ordered in two variations at once.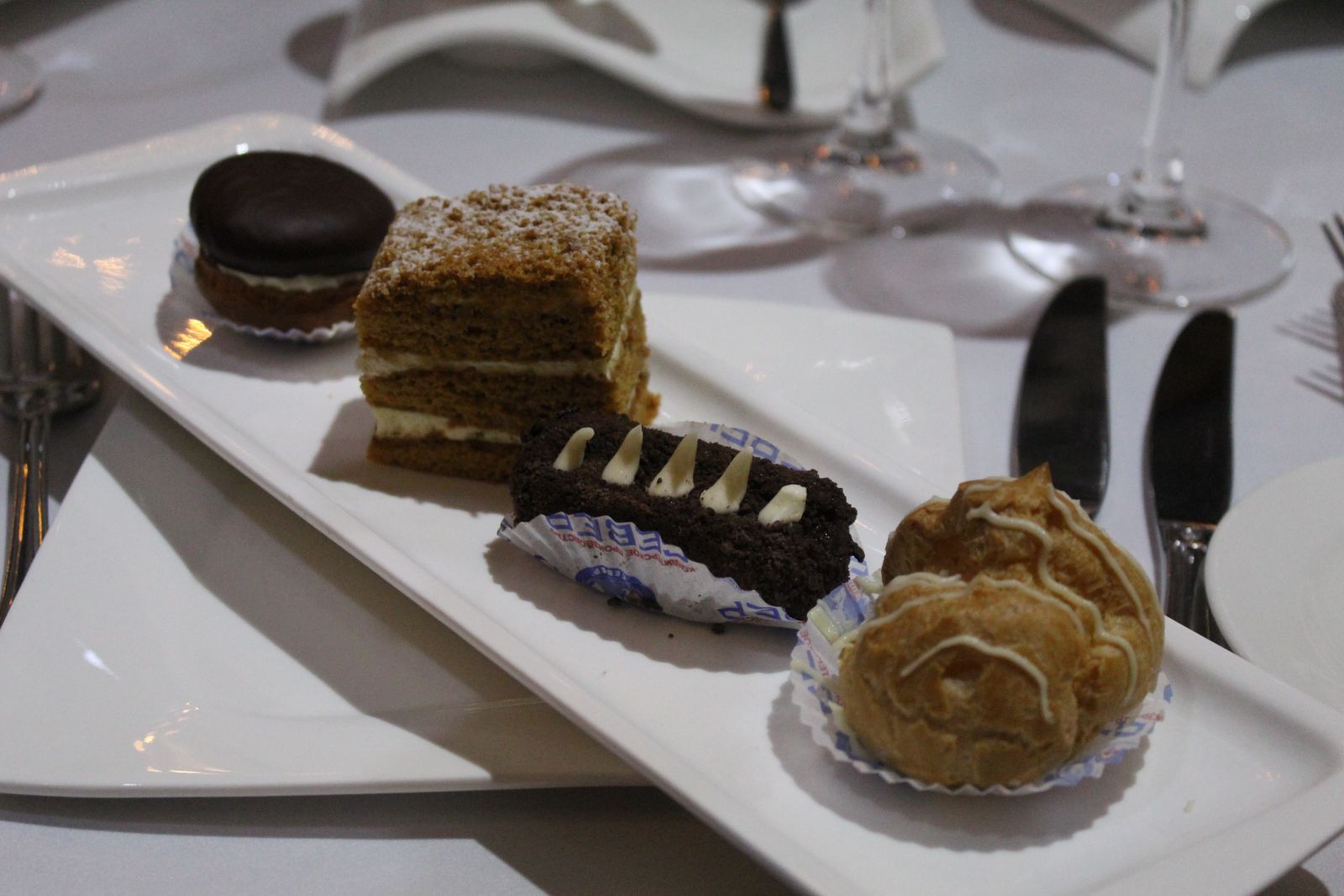 The famous «potato» according to the recipe of «Sever» always has 5 creamy «sprouts».
Unique confectionery products can also be purchased at Eliseevsky. Among them are marzipans, vegetables and berries fermented in a special sweet syrup, homemade marmalade and much more. Some recipes repeat analogs of the early twentieth century.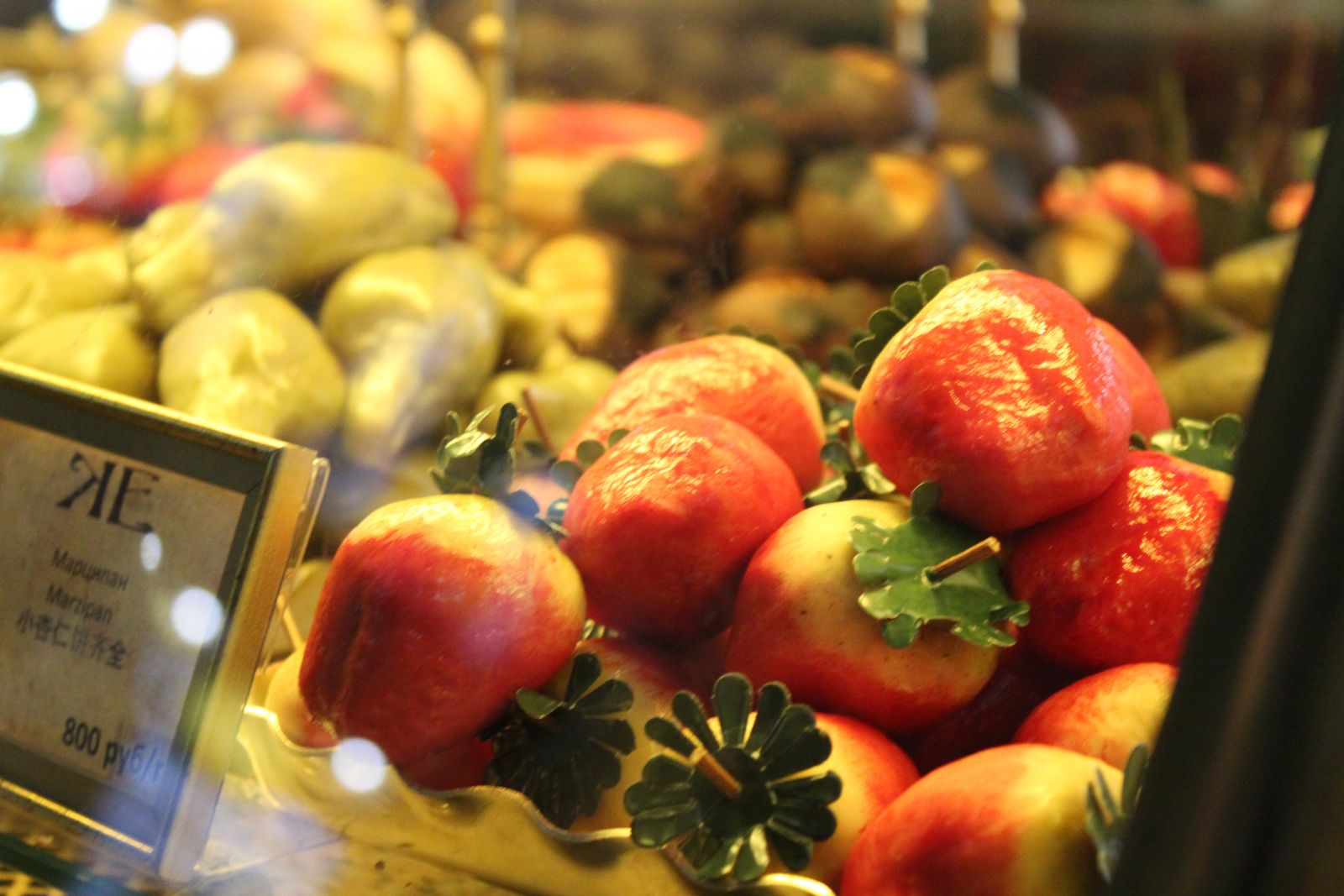 Marzipans are prepared according to the restored recipes of the Eliseev merchants.
And, of course, in Saint Petersburg you need to try the same dessert blamange from Eugene Onegin at the Palkin restaurant and buy a set of their signature sweets.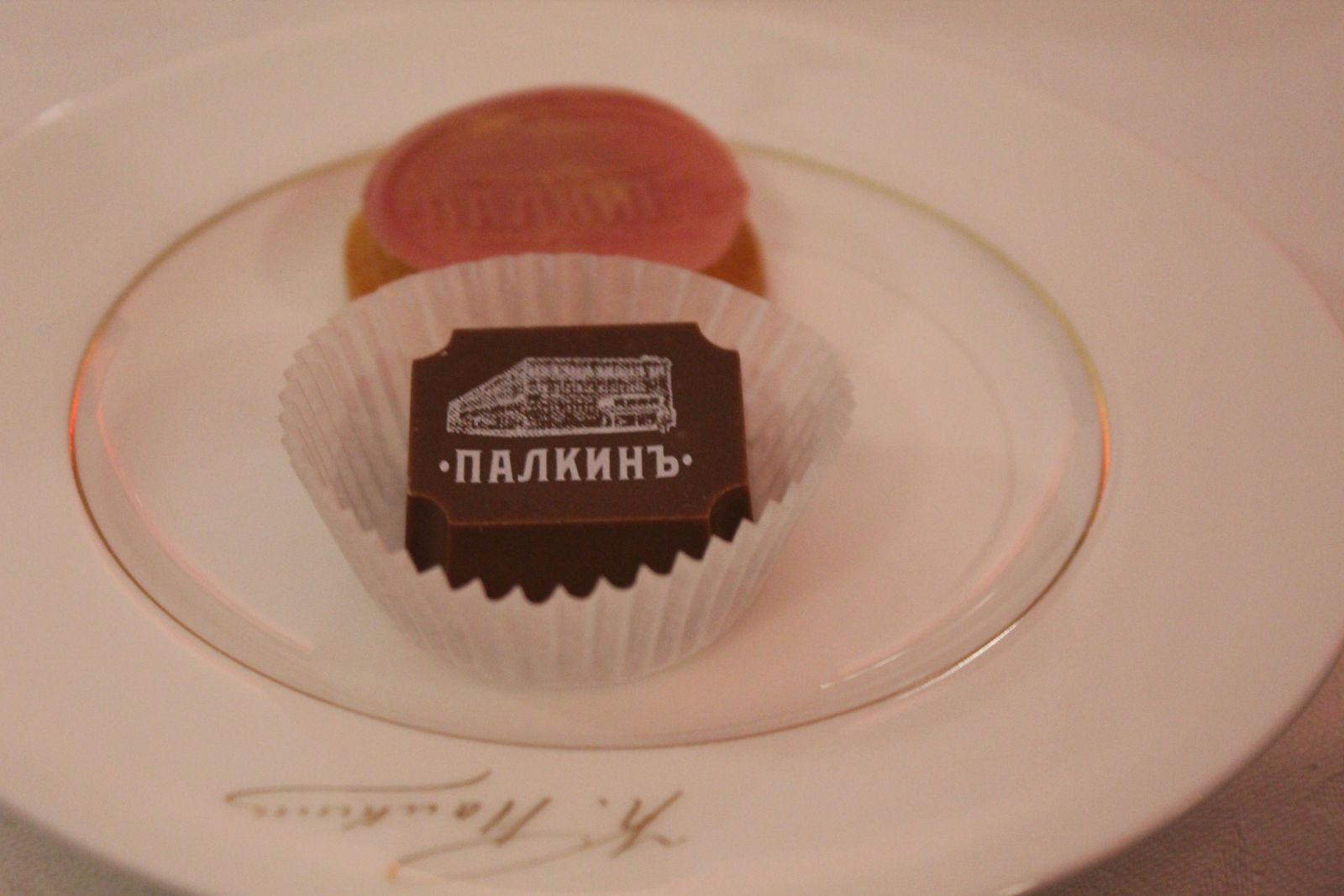 Handmade sweets are the most exquisite gastronomic gift from Saint Petersburg.