St. Petersburg: Drawbridge Night Cruise in Russian
Not just a boat trip, but a long cruise around the night Petersburg. For you will open stunning landscapes of 4 night channels, and most importantly - the drawing bridges. The route is accompanied by an audio tour.
You journey begins next to Bronze Horseman, from the public quay at English Embankment.
Grand Neva and central bridges
In the beginning of your journey you will see the most famous sights of Saint Petersburg – Bronze Horseman, Admiralty building, Kunstkamera, Isaac's Cathedral. Having crossed the Palace bridge you will see the unforgettable views of Old Saint Petersburg Stock.
The cruiser will sail below on the most beautiful bridges of Saint Petersburg – Trinity bridge, you will find yourself between the grand Peter and Paul fortress and the Hermitage that simply doesn't require a presentation.
Than the boat will pass around Peter and Paul's Fortress allong Kronverkskiy canal.
Classic route
Having passed Summer Garden, the cruiser will embark on a naval journey through Fontanka river, Moyka river and Winter canal. You will see the whole central part of the city, the most famous sights such as St. Michael's Castle, Summer garden with a Summer palace of Peter the Great, the Church of the Savior on Blood and Saint Petersburg most true to its nature with broad streets and beautiful buildings.
Drawn bridges
After Winter canal the cruiser will sail to the spacious aquatorium of Grand Neva. Having sailed down the stream, the cruiser will sail towards Bronze Horseman, where you will witness the beauty of Palace bridge drawn during a 15-minute stop.
The next to follow is Trinity bridge, it connects the central part of the city with Petrogradsky district.
After you have taken a look at the Trinity bridge drawn, you will sail below and will be able to witness Liteyniy bridge drawn.
Cruiser Aurora
From Neva river the cruiser will pass along Bolshaya Nevka and will come close to the cruiser Aurora. Than having passed through the main water area of the Neva the boat will go to the pier on English embankment 12, where the passengers will get off (5-10 minutes to the pier of landing).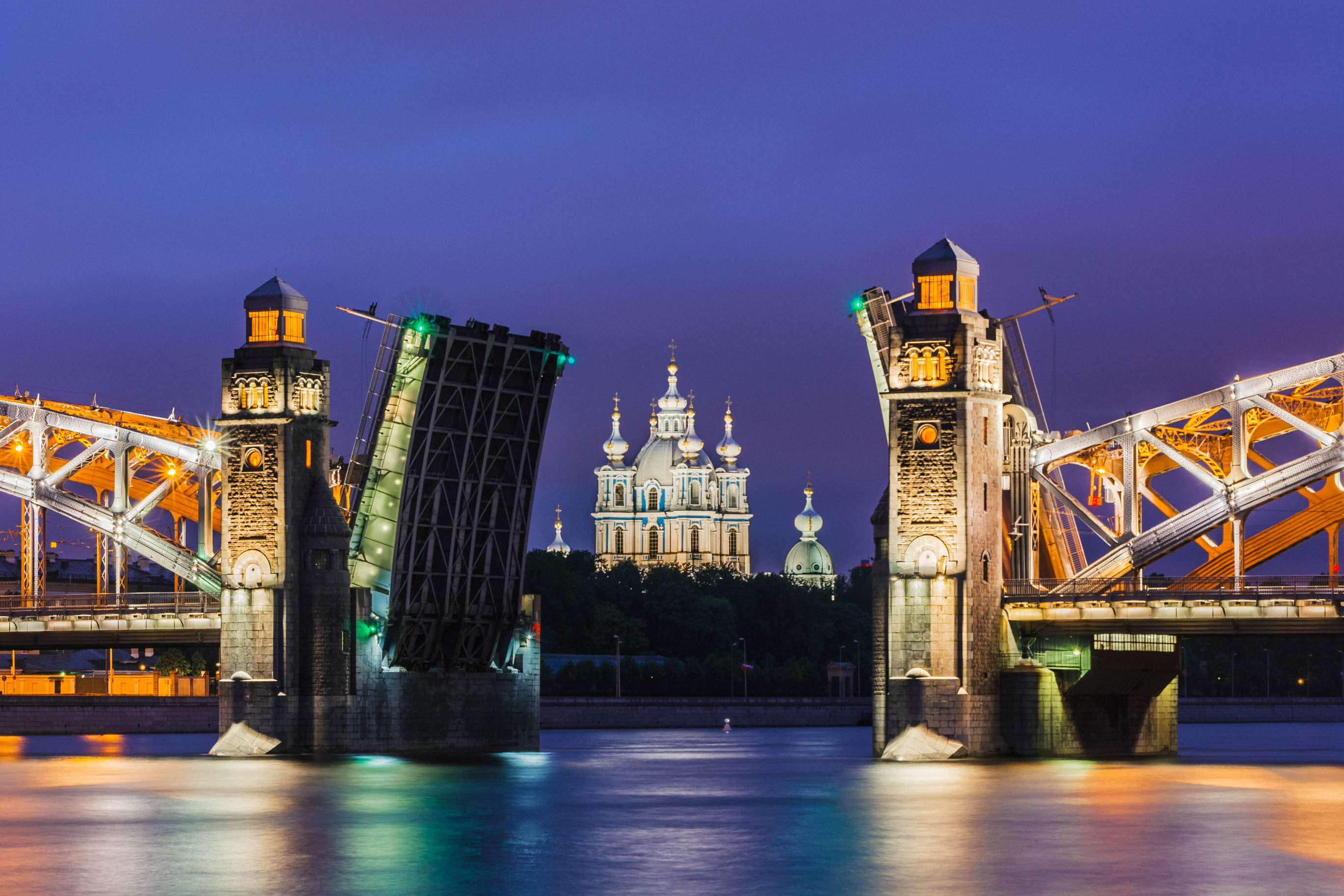 Useful information
Dates: 12 May - 30 September
Tel. +7 (812) 240 05 18
e-mail: info@boattour.ru
https://boattour.ru/ru/catalog/nightcruise-entire-saint-petersburg
Other routes