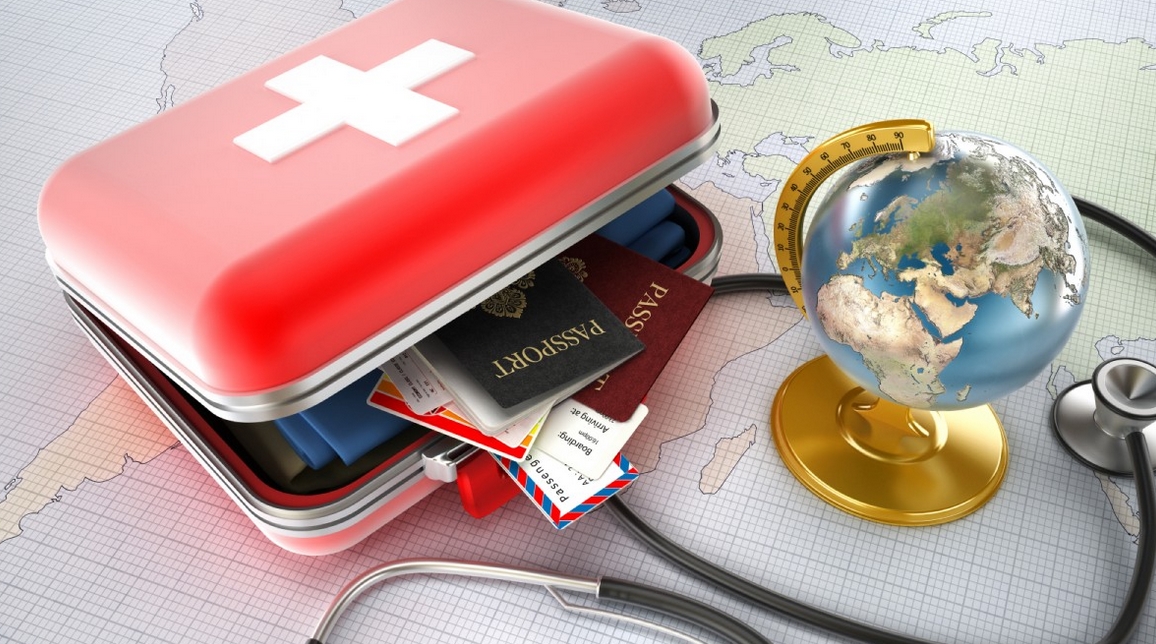 St. Petersburg offers its residents and guests unique services in the field of medical services.
Nowadays the market of medical services is actively developing, modernizing and supplementing with new directions in order to offer patients the most advanced and high-quality services and technologies.
'Medical Tourism Agency' of St. Petersburg.
Medical tourism — is a new way of «travel» as well as treatment and rehabilitation, which will allow you to combine rehabilitation with highly qualified health care procedures.
The aim of the Agency is flawless service. Every day we strive to improve our service in order to make your stay in Saint Petersburg as enjoyable as possible and exceed all expectations.
More detailed information:
www.medtourism.agency
help@medtourism.agency
We present to your attention the institutions of well-known medical services for the citizens and also for the guests of the city.
Hospitals:
Children's City Multidisciplinary Center Of High Medical Technologies Named After K. A. Rauhfusa
Since 1869, the children's city multidisciplinary center of high medical technologies named after K. A. Rauhfusa provides medical care for children of all ages and stages of life.
The hospital is designed for 400 beds. It is attended by experienced doctors and professionals, each of whom has a specialized medical education. Cooperation of the hospital with medical institutions of different countries helps to improve the quality of services and treatment, as well as to use the latest modern equipment and technologies.
Emergency medical care is provided by doctors on duty for acute diseases, as well as exacerbation of chronic diseases that pose a threat to the life of the child. Also, assistance is provided immediately upon request of patients and newly arrived patients. Doctors and staff are focused on understanding and maintaining each child's physical, emotional and social needs while they are in hospital.
Railway Clinical Hospital RZD
Since its foundation RZD Railway Clinical Hospital uses only advanced practices of diagnostics and treatment. The Hospital got great boost to develop after reconstruction. Technical re-equipment was conducted and new medical equipment was implemented in the Hospital.
This innovations turn the Railway Hospital into the center of rendering high-tech medical care on the Oktyabr'skiy railroad.
In the Hospital the full range of services can be delivered such as outpatient, inpatient, high-tech medical care, specialized medical aid, Emergency Call service and aftertreatment services.
The Hospital has primary diagnostic measures: MRI and helix CT machine, clinicodiagnostic laboratory, supersonic expert scanner with possibility to provide exploratory puncture with following cytological and histological screening. Such modern equipment allows to make any type of diagnosis.
Treatment can be received in 13 clinical, 5 medical and 8 surgery departments.
Clinic Of High Medical Technologies Named After N.I. Pirogov SPBGU
Clinic named after N.I. Pirogov has been successfully working since1861 and is known as one of the major multidisciplinary federal medical center in the country.
To receive world-class medical care patients have no need to visit foreign specialists – the clinic offers latest medical advances of international medicine in St. Petersburg. The clinic provides all kinds of inpatient and outpatient medical services – from consultation to complicated surgeries with modern minimally invasive methods.
Specialists striving to regain health to patients as soon as possible and bring them back to a full and active life. In any single case doctors choose such therapeutic approach that will reduce risks of complications development and provide quick patient recovery.
Medical staff of clinic named after N. I. Pirogov are physicians of superior expert category, doctors and candidates of mediсal sciences, most of them have specialties in related fields that allow not only to determine a diagnosis precisely but also to develop therapeutic approach for the fastest patient recovery.
Doctor Kuprin Clinic
Dr. Kuprins' Clinic specializes on plastic and aesthetic surgery. Medical center has a considerable experience and history. It takes its origins from one of the first private clinics of surgery in Russia called Centre of aesthetic and reconstruction surgery established in 1991.
In its early years, Clinic received broad publicity because of the following historic events: organization of the first symposium about plastic and aesthetic surgery within a country, engagement in exchange program of doctors and nursing staff with USA hospitals, engagement in creating of first in Russian Federation microsurgeon association and Community of plastic reconstruction and aesthetic surgeons and education program about plastic surgery.
Nowadays over 1000 surgeries maid in the Clinic every year, scientific and practical researches are in progress, newest techniques in plastic surgery are being implemented.
That makes Dr. Kuprins' Clinic attractive not only for patient from St. Petersburg, Moscow and regions but also for CIS, Western Europe and other country residents.
MEDSI Clinic St. Petersburg
Medsi Clinic St. Petersburg is a multidisciplinary medical institution that provides a wide range of highly specialized medical services and a unique opportunity to solve most health problems within a single institution.
MEDSI Clinic possesses variety of advantages among which are modern equipment, well-qualified personnel, 24/7 patient consultation, location in the St. Petersburg historic center, experience in providing services to foreign patients, technological effectiveness - advanced technology of diagnostics, treatment and information sharing and digital medicine.
The Medsi St. Petersburg Clinic has a Children's Clinic competence center headed by the neonatologist Jamilia Serebrennikova. The Children's Clinic provides round-the-clock pediatric care, has experienced neonatologists and pediatricians, all required types of tests and studies for children under one roof and a powerful diagnostic base.
Sanitary-epidemiological control. Medsi St. Petersburg Clinic operates according to the same rules and regulations as foreign medical facilities do. Our specialists constantly control sanitaryepidemiological condition of the Clinic.
All used measures ensure hygienic safety of the treatment process at all its stages.
SMT Clinics
SMT Clinics combine Western standards of medical industry with modern equipment and high level of service.
SMT Clinics offer diagnostics and treatment to patients who appreciate the value of quick and qualitative aid. (more than 40 medical referrals). Full range of esthetic and reparative face operation, full services for oncology patient (from establishing diagnosis to rehabilitation).
As advantages of clinics the following can be singled out: expert high-technology equipment including unique VERION Image Guided System for implementation of any kind of ophthalmological surgery, diagnostic medical equipment for breast cancer without parallel in North West region, the best private hospital services according to independent ranking of Saint Petersburg Committee for Healthcare in 2017, modern surgery suite conforming to the international medical standards (absolute sterility of surgical area, minimal postoperative risks, complete checkup prior to surgery in a day).
Medical Institute Named After Berezin Sergey
Medical Institute named after Berezin Sergey (until 2016 LDC MIBS) is a fullcycle oncology clinic with the Proton Therapy Center and an international telemedicine network of diagnostic center.
For over 10 years the international protocol for the diagnosis and treatment of cancer have been used in the Institute: «Proton knife» (VarianProBeam), radiosurgery (Gamma knife, Cyber knife, TrueBeam), radiation therapy, morphological and radionuclide diagnostic, medical imaging using the best magnetic resonance, computer and positron emission tomographs, such combination of modern technologies has no analogues in Russia. At the same time, the cost ot treatment at MIBS is significantly lower that at foreign medical centers, and often cheaper than at other private Russian clinics that do not have such an arsenal.
Modern radiation therapy at the MIBS Oncologic Clinic provides precise delivery of high-dose radiation to target tumor cells, reducing the radiation load on healthy tissues and critical organs.
The International Centre For Reproductive Medicine
The International Centre for Reproductive Medicine (ICRM) offers infertility treatment using assisted reproductive techniques (ART) since 1993. General Director of ICRM, Professor Vladislav Korsak, is a firstclass fertility specialist widely known both n Russia and abroad. Since 1995, Prof. Korsak has been President of the Russian Association of Human Reproduction (RAHR). Since 2000, he has acted as a member of the Steering Committee of EIM Consortium at the European Society of Human Reproduction and Embryology (ESHRE). Prof. Korsak has over 200 publications in the Russian and foreign peer-reviewed medical journals.
ICRM was a pioneer in introduction of a number of ARTs in our country, among them: IntraCytoplasmic Sperm Injection (ICSI), egg donor programs and surrogacy, egg and embryo cryopreservation. The clinic offers preimplantation genetic diagnosis (PGD) that prevents birth of babies with hereditary diseases.
The clinic offers IVF, ICSI, sperm and egg donation programs, surrogacy, ultrasound techniques and gynecological surgery. There is an in-patient unit and a hotel for patients coming from different regions of Russia. The eternal mission of ICRM is birth of healthy babies.
The Turner Scientific Research Institute For Children's Orthopedics
The history of the Institute begins at the end of the XIX century (1890) With personal support of the founder of Russian pediatric orthopedics – ProfessorHenry Turner.
The Turner scientific research Institute for children's orthopedics is the largest state clinic in Russia, the main scientific research and treatme nt and diagnostic center of our country, capable of solving any problems in the field of pediatric orthopedics and traumatology.
In total, the Institute's clinic includes 500 beds for children with injuries of the musculoskeletal system and has 9 specialized surgical departments, rehabilitation department, robotic rehabilitation department, operating unit with anesthesiology and intensive care department, laboratory units, accompanying and support services. In the consultation and diagnostic department, the Institute's leading specialists carry out consultations for children and teenagers suffering from trauma sequelae, congenital and acquired diseases of the musculoskeletal system. They also participate in the assessment of the short-term and long-term results of the treatment of both inpatients and outpatients. During consultations, patients who are, in the doctors' opinion, in need of admission in the Institute's clinics, are selected.
Through the work of the consultation and diagnostic department, neonatal children and infants with abnormal hip joints are, for the first time in Russia, provided with comprehensive functional, conservative treatment with braces and other supports, developed at the Institute. Through outpatient services, children with congenital foot defects are performed serial casting from the first days of their lives.
The Almazov National Medical Research Center
The Almazov National Medical Research Center is a major scientific contributor and healthcare provider offering hightech medical care.
The scientific, educational and clinical activities are permanently expanding. New research departments have been opened. Seven research institutes and the medical education institute with 15 departments are teaming up to improve clinical research and patient care.
The Children's Rehabilitation Clinic has state-of-the-art facilities to provide treatment and inpatient rehabilitation for children of all ages, including extremely low weight newborns, children with congenital anomalies and other disorders, patients after chemotherapy and postoperative patients, especially after cardiac or neurosurgery as well as pregnant women. In particular, medical care is provided to pediatric patients with cardiovascular, endocrine, rare diseases, cancer as well as to children after organ and bone marrow transplantation.
• Principal directions of activity
• Cardiology
• Bariatric surgery
• Neurosurgery
• Interventional surgery
The Almazov Centre has a unique experience in the management of children undergoing cardiac transplantation and provides rehabilitation for pediatric patients following the surgical repair of complex congenital heart defects. Rehabilitation is started as soon as possible after surgery to enhance and promote faster recovery.
St. Petersburg Municipal Budgetary Healthcare Institution Kurortny District Municipal Hospital No. 40
St. Petersburg municipal budgetary healthcare institution Kurortny District Municipal Hospital No. 40 is one of the largest medical treatment clinic of the NorthWestern region of the Russian Federation where patients can receive specialized and hightechnology medical treatment.
The Hospital is located in Sestroretsk – a heart of ecologically safe area of St. Petersburg Kurortny District.
It happened that the Hospital has been one of the crucial inpatient facility of Russia where patients can receive medical rehabilitation.
Rehabilitation Centre of the Hospital has occupied a functioning since 1974.
Nowadays the Hospital has leading position in patient capacity for the rehabilitation treatment the medical aftercare in the Russian Federation.
The experts re provided with the top rehabilitation technologies, roboticenabled transreflective apparatotherapy, effective physical and traditional methods, modern medical therapy.
Kurortny District municipal hospital No. 40 is a modern multidisciplinary hospital where patients can receive high-technology medical care in surgery, urology, gynecology, traumatology, orthopedics, neurosurgery, cardiovascular surgery, ophthalmology, otorhinolaryngology and oncology. 76% of surgeries are performed with the minimally invasive methods.
Every fifth robotic-based surgery in Russia is performed in Kurortny District municipal hospital No. 40.
Hi-tech maneuvers by Da Vinci Si robot are available both for Saint Petersburg and Leningradsky Region residents and for patients from other regions and countries. Patients with oncologic diseases can receive full-circle medical care: from early disease detection to medical rehabilitation. Professional skills of Hospital specialists together with major materials and technical equipment of Clinic allow to deliver medical services according to the world standards.
Family Clinic Maternity Hospital On Furshtatskaya
Family Clinic Maternity hospital on Furshtatskaya located in the heart of Saint Petersburg on Furshtatskaya street.
Modern medical center includes:
• Private maternity welfare center.
• Academy of preparation for childbirth 2 Plus.
• The oldest in city birth centre.
• Pediatric department.
• Correction of complication of pregnancy center.
Maternity hospital on Furshtatskaya provides following services:
• Birth programs with All inclusive system.
• Faultless longstanding reputation and experienced professionals.
• Guest rooms for accommodation for other regions and countries residents.
• System of personal physicians and nurse-midwifes for clients.
• Modern screening, diagnostics and treatment methods, possibility to get a consultation from specialist of any subject matter.
• Birth with husband including cesarean section.
• Family-like comfort and coziness, quiet and inviting atmosphere
• Six time a day nutritional management with possibility to observe national heritages.
• Own mobile application Women Academy/ User account.
Scandinavia Clinic Network
Multidisciplinary hospital for adults and children, maternity hospital and 12 outpatient departments of Scandinavia work on St. Petersburg market more than 25 years and cover the whole city.
All tests and treatment are performed on a wide range of diseases: cardiovascular, respiratory, endocrine, urinary, gastrointestinal and hematological, as well as systemic diseases and connective tissue disorders.
The clinic has an on-duty surgical team that provides emergency and elective care to surgical patients 24 hours a day. An urgent operation can be performed within two hours from the patient's admission.
Also the Clinic all pediatric specialists, including specialized physicians. All surgeries are performed with minimally invasive, almost seamless endoscopic access, which significantly reduces tissue damage and shortens recovery time. Most minor surgery operations (hernia, hydrocele, phimosis, varicocele) are performed in one day.
System Of Clinics MEDI
System of Clinics MEDI is one of the leading medical companies in Russia providing services in the field of dentistry, plastic surgery, laserassisted vision correction, aesthetic and family medicine. The MEDI system includes 25 elite and business class clinics in St. Petersburg and Moscow, and a network of dental X-ray diagnostic centers.
Its clinical practice is highly focused on the integrational medicine presuming a complex approach to treatment and a new standard of qualified rendering the medical attendance. The main strategy of the company is the leadership with striving for continual service improvement and perfection of medical care.
• Laser eye surgery, including Z-lasik
• Plastic Surgery
• Dentistry
• Esthetic medicine
• Family practice
In 1998, MEDI's dermatologists and cosmetologists were among the first in Russia to start work on the development of the Aesthetic Medicine direction. Even today they retain their leading positions, having a great command of the latest technologies of laser, cell and photo rejuvenation, RF-lifting, injection and machine-aided techniques, implementing comprehensive programs in face and body cosmetology. They also develop the direction of integral anti-aging medicine based on uniquely designed Anti-Aging-methods.
To maintain the health of the patients, various types of physiotherapy procedures are offered, as well as technologies and medicines aimed at body restoration at the cellular level.
In the Inpatient Department, MEDI's specialists perform minimally invasive gynecological, urological and ENT operations.
Comfortable wards are provided for the recovery of patients.
All-Russian Center For Emergency And Radiation Medicine After A. M. Nikiforov FSBI
Leading medical instructions of the Ministry of Emergency Situations of Emergency situations of Russian, with modern medical and diagnostic equipment and advanced medical technologies to provide specialized and high-tech medical care for various diseases and pathetical conditionals, including the effects of manmade and natural disasters, radiation accidents using the expectance of leasing domestic and foreign medical institutions.
The World Health Organization's Collaborating Centre for the treatment and rehabilitation of victims of nuclear and other disasters.
The institution consists of two clinics with a total capacity of 530 beds, which provide emergency medicine and elective care, conduct highly specialized examination and treatment, prevention and rehabilitation in a day and day-and-night hospital. As part of the centre there is a polyclinic which is in operation for 460 visits per shift, providing specialized outpatient care.
The team consists of highly qualified specialists: more than 60 Doctors of Science (more than 50 of them have the scientific degree of professor) and more than 160 Candidates of Science. More than half of medical and nursing personnel have the highest qualification category.
The L.G. Sokolov MemoriaL Hospital No. 122
The L. G. Sokolov Memorial Hospital № 122 was founded to provide disease-prevention services and treatment to workers from special enterprises (former Ministry of Middle Engineering in 1983).
Currently, Clinical Hospital No. 122 remains an industrial medicine clinic and continues to provide medical care, including cases of occupational diseases of workers of the nuclear and shipbuilding industries. The institution is headed by Yakov Nakatis.
The Clinic offers a full list of modern diagnostic services. In the last years of intensive development of the institution, more than 24,000 patients on average have been treated in the hospital; high-tech medical care is provided upon 19 specializations. In-patient department and diagnostic services work round the clock.
The polyclinic complex, which includes the Central Polyclinic and six polyclinics at industrial enterprises, provides services for more than 1,600 patients per day.
The Department of Pediatrics was opened in February 2006 as part of the Central Polyclinic of Clinical Hospital No. 122 named after L. G. Sokolov.
The following medical specialists provide consultations in the department: ultrasonographer, dermatologist, pediatric allergologist, pediatric gastroenterologist, pediatric gynecologist, pediatric urologist, pediatric endocrinologist, pediatric pulmonologist, immunologist, neurologist (neuropathologist), neonatologist, osteopath, otorhinolaryngologist (ENT), ophthalmologist (eye physician), pediatrician, family psychologist, surgeon, and other specialists.
Speech therapist provides correction, rehabilitation after speech and voice disorders in children from 3–5 years old. Performs examinations, consultations, discussions with parents. One trial speech therapy class in the presence of parents is possible.
In the Central Polyclinic, you can use the Leader's Health program. The program takes 3–4 days and includes all types of clinical tests, examination by specialists and diagnostics. Upon completion, the conclusions are issued: about a possibility to work in this profession, a medical certificate for the right to drive a car and carry a weapon, a medical certificate for sanatorium-resort treatment, and a Health Passport.
INTAN Centers Of Implantation And Dentistry
INTAN Centers of implantation and Dentistry are federal network of clinics with 20 years of experience.
Middle class families — adults, children, and the older generation — are treated here. At the same time, clinics guarantee high quality service.
In dental clinics professional medical care can be received in all areas: implantation, dental care, orthodontics, orthopedics. The Dental Association of Russia awarded Intan the status of an Innovation Center. Also, the Intan, in cooperation with St. Petersburg State University, organizes the International Symposium Actual Problems of Dentistry, where doctors share their experience with leading dentists from Russia and from other countries.
The mission of the Children's Department of INTAN is to help children grow up healthy - to teach them not to be afraid of dental practices.
Unfortunately, many parents still believe that it is not necessary to treat baby teeth, which is fundamentally wrong. Exactly prevention and treatment at this stage help to avoid serious problems at an older age and the attendant expenses.